PRECOOK FOR BREAK-THE-FAST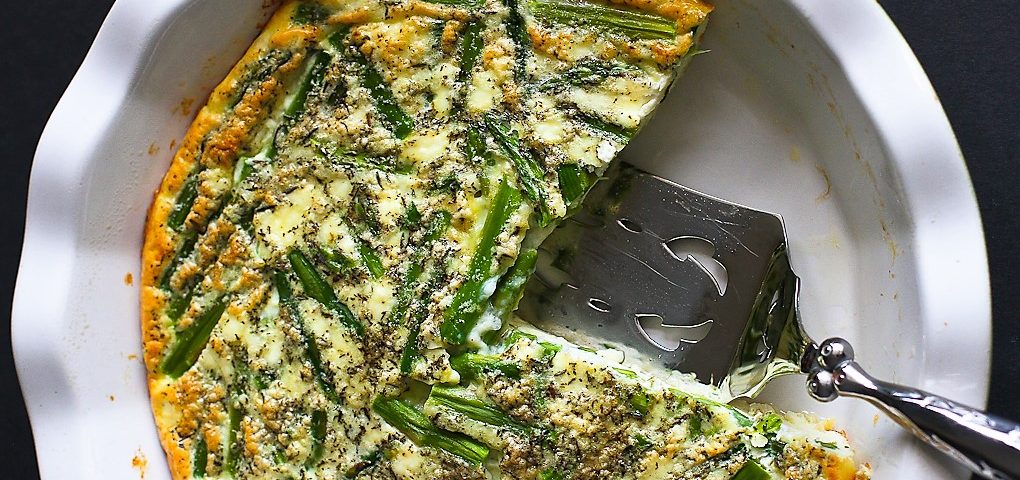 PHOTO: this crust-less quiche with asparagus and feta can be prepared in advance, chilled and served later with little or no reheating involved for the break-the-fast after Yom Kippur.
The holiday of Yom Kippur is one of reflection, repentance and prayer, all of which takes place while fasting. At the end of the holiday, Jews traditionally share a joyful break-the-fast meal with family and friends.
Here's a Yom Kippur break-fast menu from Pereg Natural Foods that can be prepared in advance, chilled and served later with little or no reheating involved. All Pereg products are kosher certified by both the Orthodox Union (OU) and CRC. These recipes are written to feed eight or more, but you can easily halve the ingredients for a smaller crowd.
THE BEST LENTIL SALAD – ADAPTED BY PEREG NATURAL FOODS
2¼ cups (1 lb.) Pereg Natural Foods French lentils
1 medium red onion, diced
1 cup dried currants (you could also use raisins or other dried fruit)
⅓ cup capers
Vinaigrette:
⅓ cup cold pressed, extra virgin olive oil
¼ cup apple cider vinegar
1 tablespoon maple syrup
1 tablespoon strong mustard
2 teaspoon salt
2 teaspoon Pereg ground pepper
1 teaspoon Pereg ground cumin
½ teaspoon Pereg turmeric
½ teaspoon Pereg ground coriander
½ tsp Pereg ground cardamom
¼ teaspoon Pereg cayenne pepper
¼ teaspoon Pereg ground cloves
¼ teaspoon Pereg ground nutmeg
¼ teaspoon Pereg ground cinnamon
Optional add-ins:
Arugula
Walnuts
Goat cheese
Fresh herbs: flat-leaf parsley, cilantro, basil
Sprouts
Crispy seasonal veggies
Rinse lentils well, drain. Place in a pot and cover with 3-4 inches of water; bring to a boil and reduce to simmer. Check lentils for doneness after 15 minutes, but they should take about 20 minutes in total. You will know they are cooked if they still retain a slight tooth – al dente! Don't overcook the lentils.
While the lentils are simmering, make the dressing by placing all ingredients in a jar with a tight-fitting lid and shake vigorously to combine.
Finely dice red onion – the salad is best if all the ingredients are about the same size. If using raisins, chop them roughly to make them a bit smaller, and do the same with the capers if they are large.
When the lentils are cooked, remove from heat, drain and place under cold running water to stop the cooking process. Once cooled slightly but still a little warm, place lentils in a large serving bowl and toss with dressing. Add in onion, capers and currants. If using other add-ins such as herbs, greens or cheese, wait until just before serving. Otherwise, this salad can hang out in the fridge for a couple days.
CRUSTLESS QUICHE WITH ASPARAGUS AND FETA
1 tablespoon butter
16 stalks of asparagus, bottoms trimmed
5 eggs
½ cup half-and-half
½ cup lowfat sour cream
½ teaspoon ground white pepper
¼ teaspoon salt (plus more for seasoning)
Pinch of Pereg black pepper (plus more for seasoning)
Pinch of Pereg nutmeg
¾ cup crumbled feta cheese (sheep or goat milk feta is preferable)
½ cup chopped scallions (both green and white parts)
½ cup chopped parsley
Nonstick vegetable oil spray
Preheat oven to 350°F. Cut 2 inches off the thick ends of the asparagus spears, discard those tough ends. Chop the asparagus into ½-inch pieces. Melt butter in a skillet over medium heat. Add the asparagus pieces to the skillet. Season them with salt and pepper, then sauté them for about 5 minutes until tender-crisp. Remove from heat and allow asparagus to cool.
In a large mixing bowl beat the eggs. Whisk in the half and half, sour cream, white pepper, salt, black pepper and nutmeg. Incorporate the crumbled feta, scallions, parsley and asparagus pieces into the mixture with a large spoon.
Liberally grease a 9-inch pie plate with cooking spray. Pour the quiche mixture directly into the pie plate. Bake for 30-40 minutes until the quiche is nicely browned. Stick a sharp knife or toothpick in the center of the quiche to test for doneness – if it comes out clean, it's done. Let quiche settle at least 10 minutes before serving.
Serve warm, at room temperature, or chilled. DO AHEAD: Once it has cooled, quiche can be stored covered with plastic wrap up to five days in the refrigerator. To reheat, place it in a 350°F oven for 10-15 minutes. Quiche will warm up more evenly if you cut it into individual pieces prior to reheating.
Pereg was established in 1906, and is based in Clifton, NJ. They first became known for their vast variety of pure and natural spices and spice blends, more than 60 in all, from traditional favorites to exotics from around the culinary world. All Pereg products are kosher certified by both the Orthodox Union (OU) and CRC, are dairy and lactose-free as well as all natural, with no additives or preservatives. Many products are also certified gluten-free and non-GMO. Today Pereg produces an array of all-natural products that includes ancient grains and ancient grain blends, gluten free pasta, couscous, rice, gluten-free cereal and much more. Pereg Natural Foods products are available at select retailers throughout the US and Canada, and on their website, www.pereg-gourmet.com.
Back To Articles