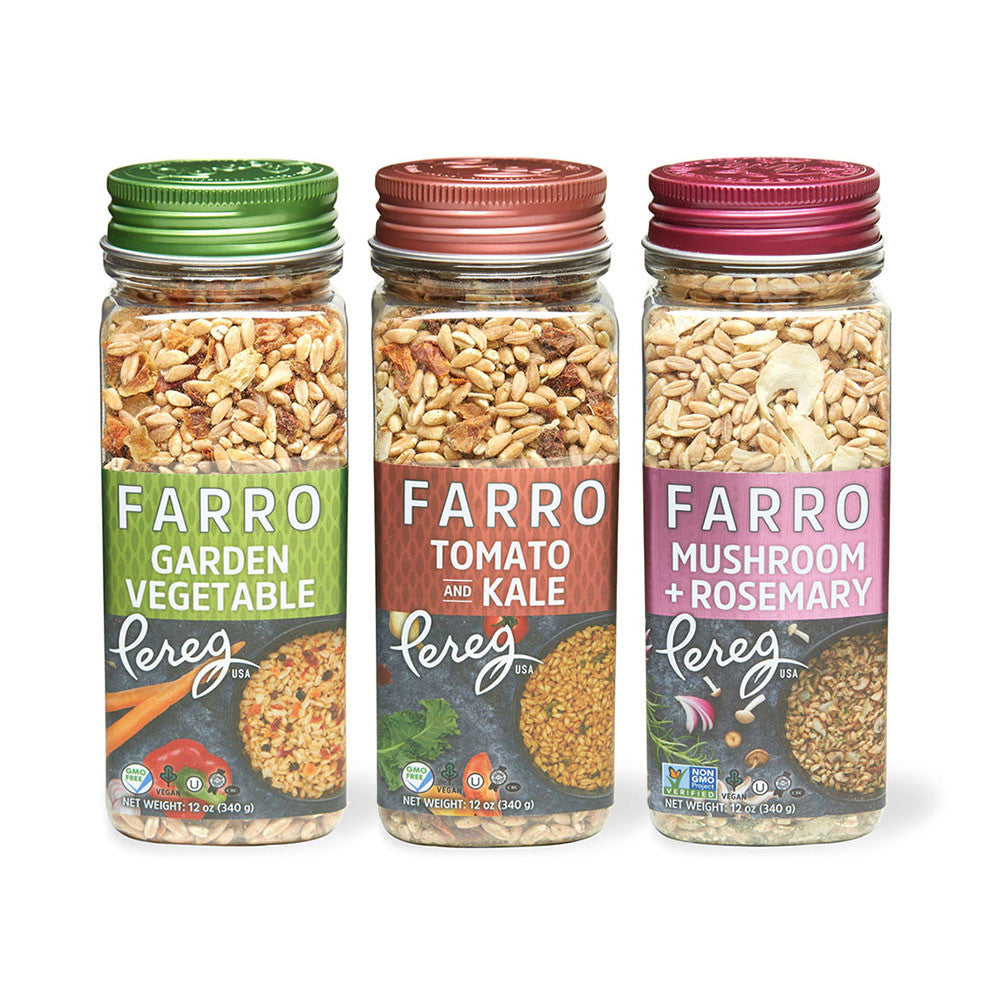 Farro 3-Pack Set
Weight:
Description

Farro is a healthy, ancient Italian grain. Makes for a great alternative to rice or pasta. It's easy to cook & we've made it simple by mixing vegetables, herbs & spices, you've just got to add the water.


A delicious source of fiber, protein & iron.

This is a 3-pack of our best-selling flavors: Tomato and Kale; Mushrooms and Rosemary; and Garden Vegetable.

Enjoy these blends as a delightful warm side dish or chill and toss them into a hearty salad. 

Cooking Instructions

StoveTop:
Combine 1 cup farro mix with 3 cups water or broth in a saucepan. Bring to a boil, stir & cook for 15-20 minutes, or until al dente. Drain any excess liquid, add a pinch of salt if desired & enjoy!

Shipping Rates

Domestic
Free Shipping on all orders of $49 or more! Orders up to $48.99 will be charged $9.95. For more information please visit our shipping page.

UPC: FARRO_3PACK_CAN-TOM_MR_VEG
One of the best
I said that because a love pereg's quinoa too.
The flavor profiles of the varieties of Farro easily lend themselves to additions limited only by your taste, imagination or the meal it is to be served with. It is always enjoyable to add vegetables and also to cook the Farro in a flavored broth that compliments whatever meat is on the menu. Farro and other ancient grains are such a pleasant change from rice, pasta or potatoes. Thank you for such a delicious product.
Delicious as a side dish or even in a salad bowl!
I had bought some plain farro in the grocery store and loved it. When I went back to buy more it was gone. So I found it online and so glad I did. I served the vegetable farro tonight and it was really good, as well as colorful. The seasoning in the mix is great too. I definitely recommend it!
Reliable products and company
They sell the best farro in the market, I also tried the lemon rice for the first time , it has a hint of coconut flavor that I enjoyed. My order arrived incomplete and they sent the missing items as soon as I notified them. Reliable company.