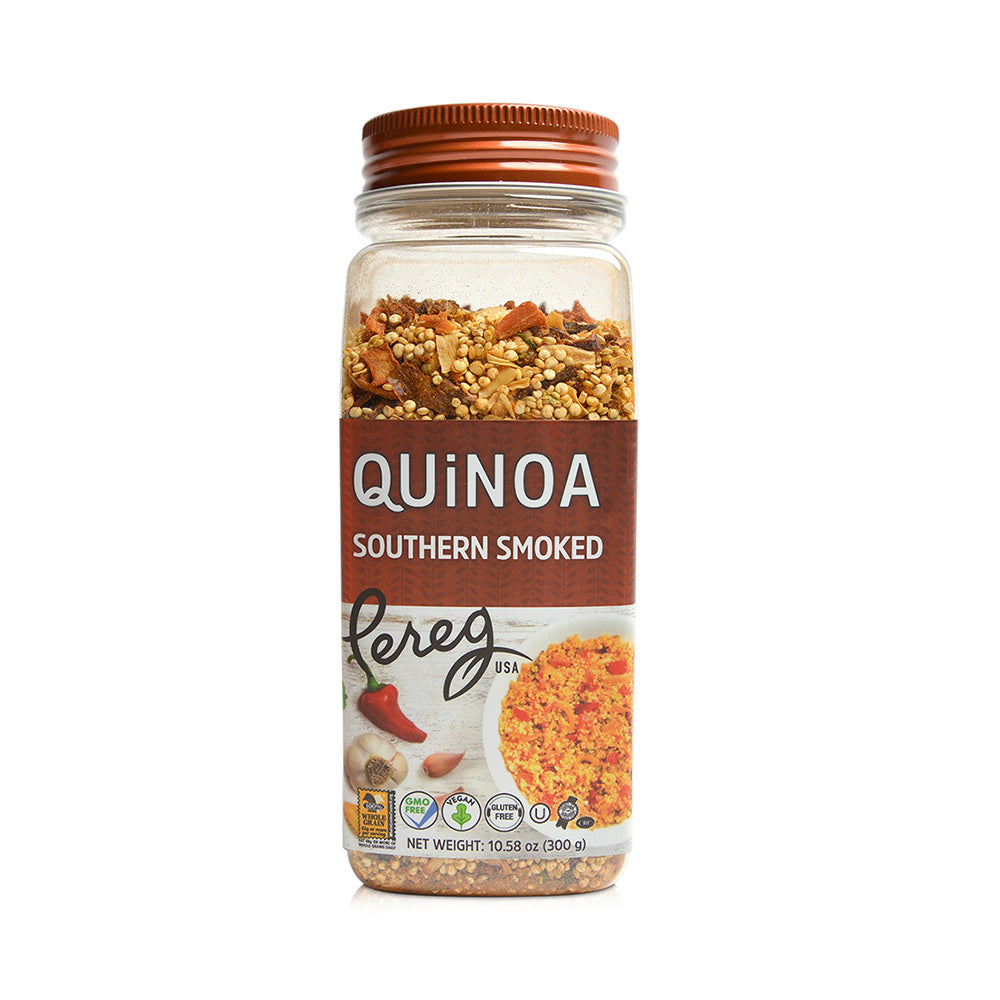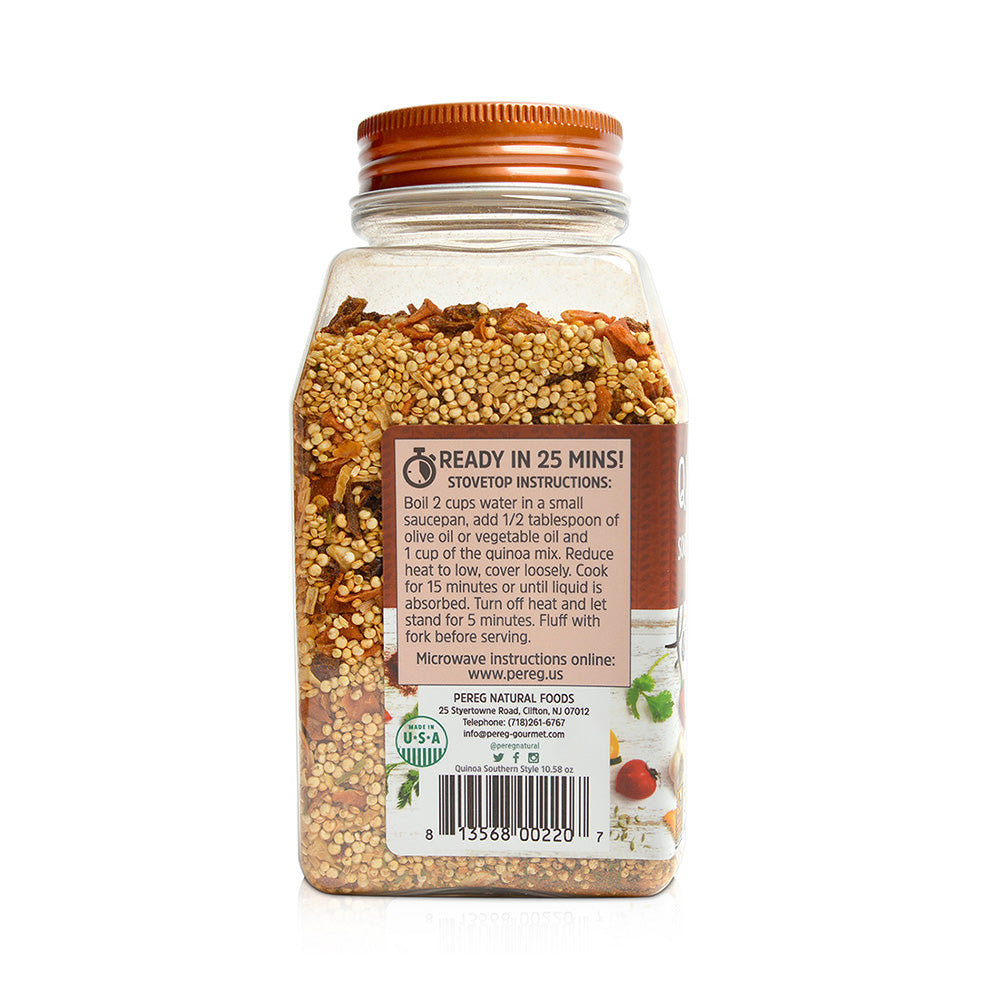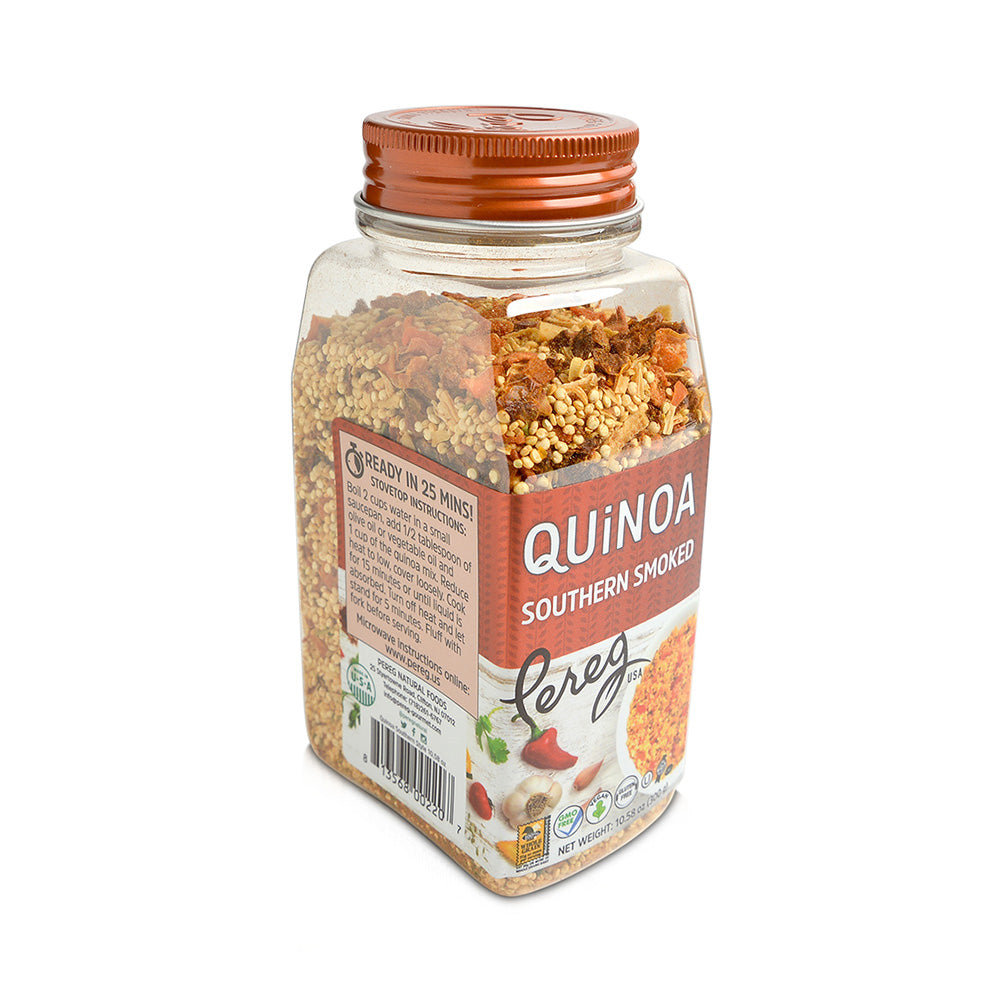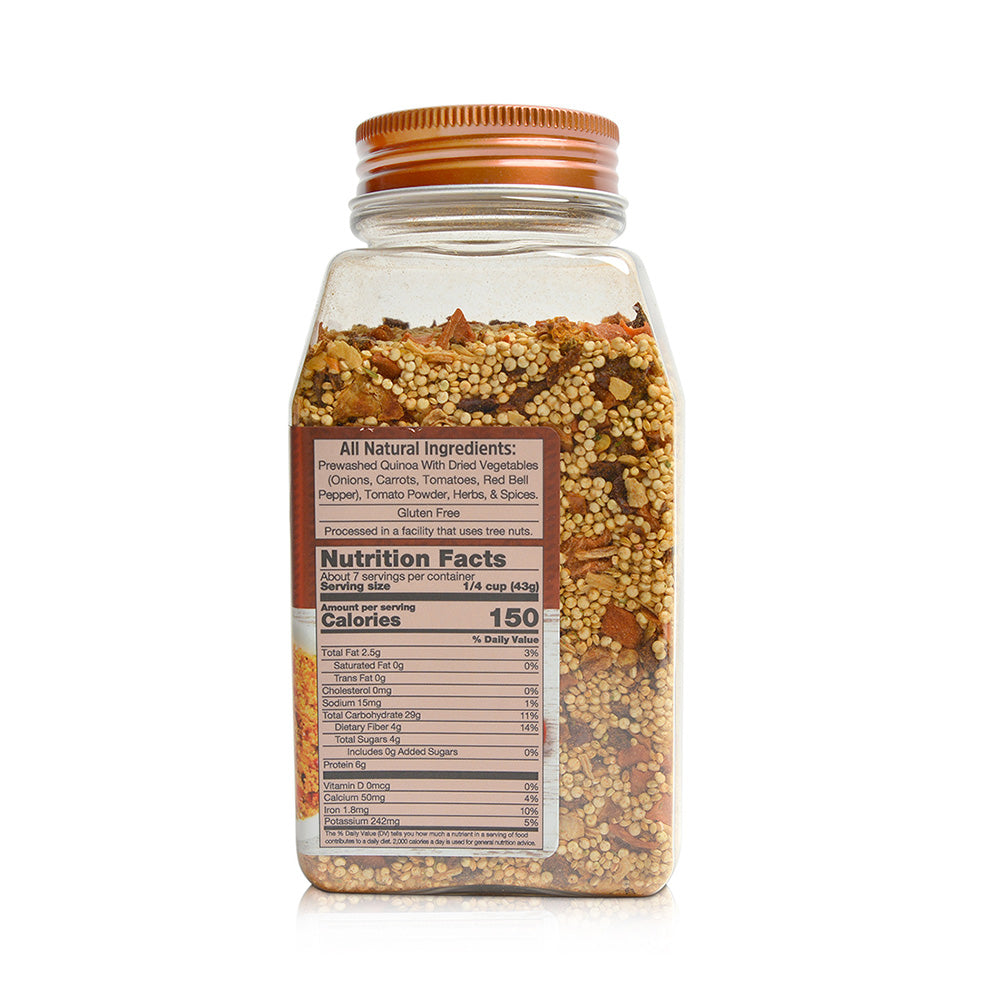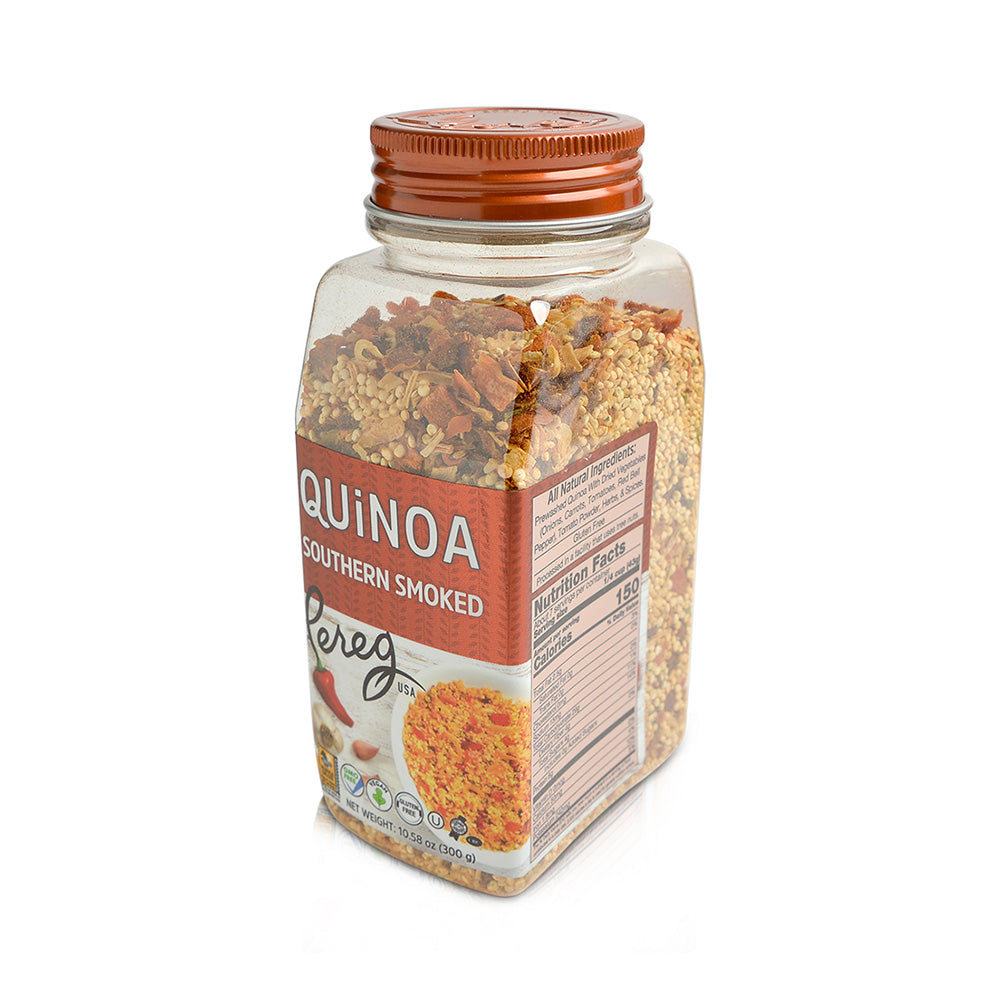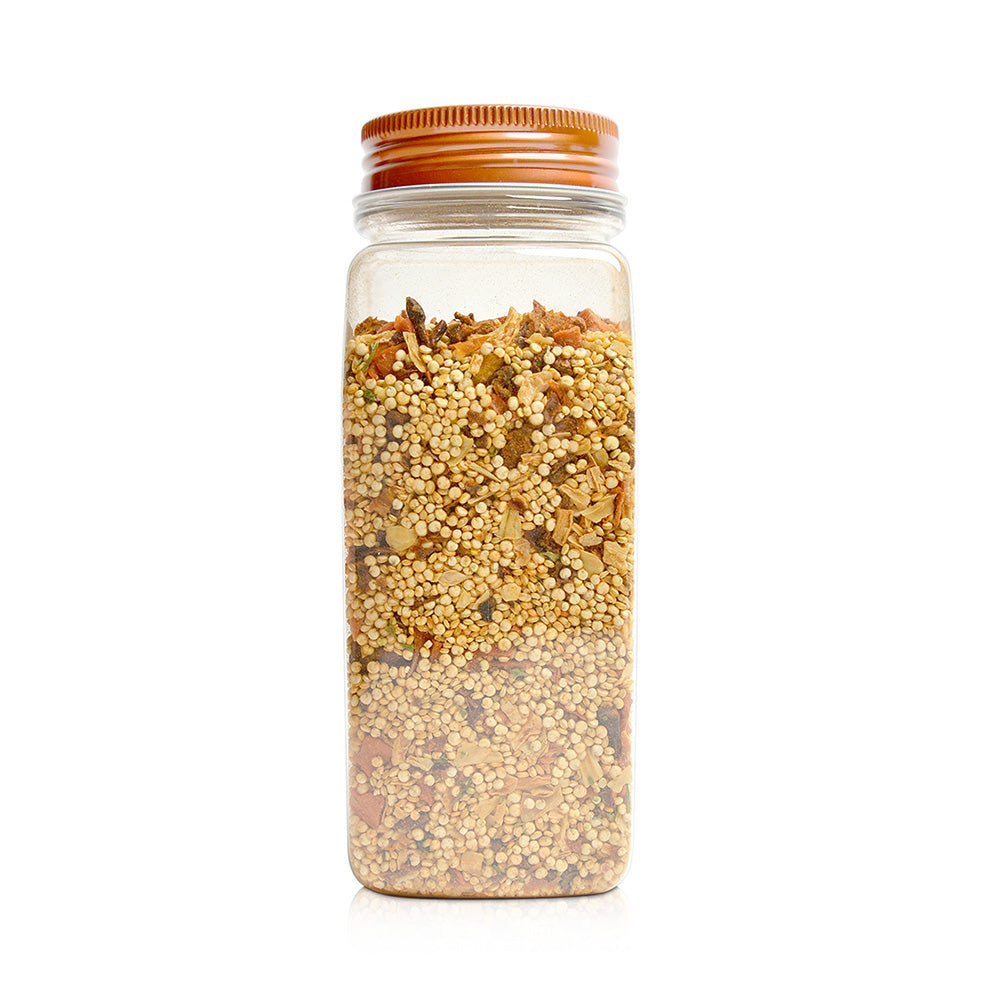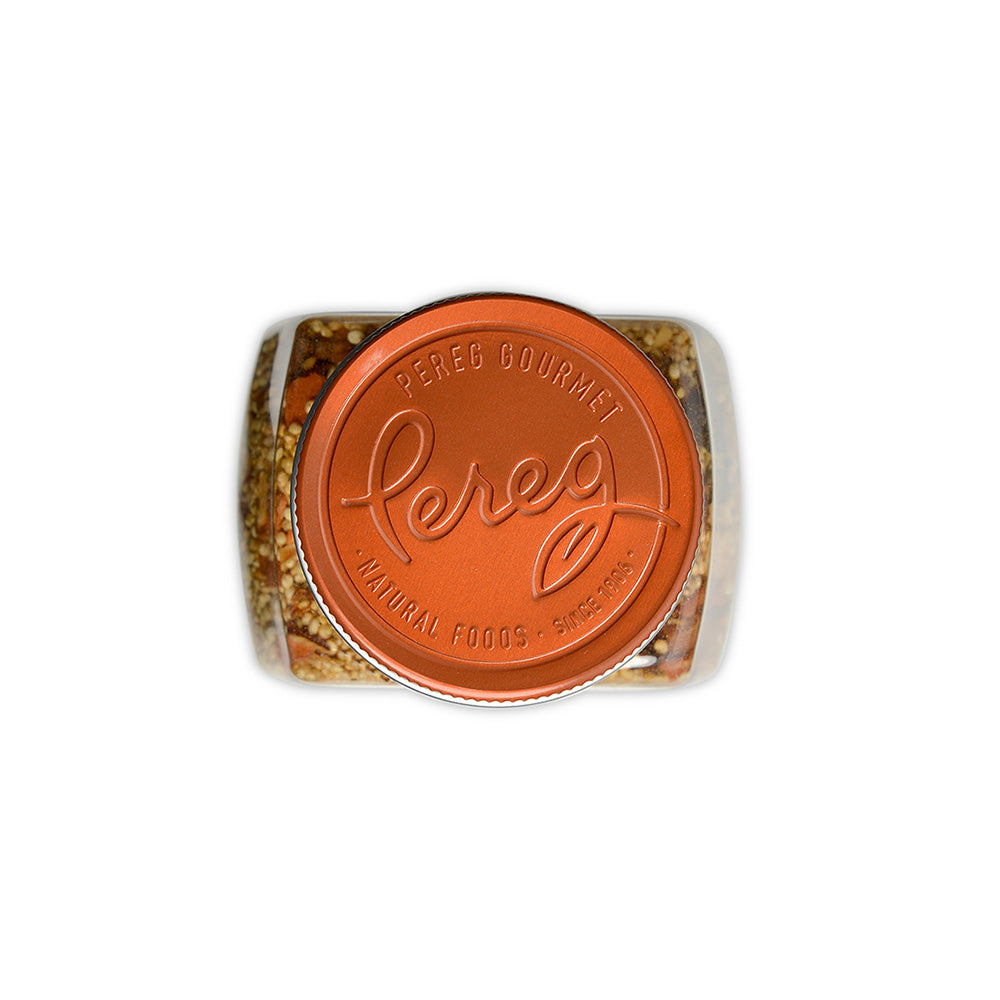 Quinoa - Southern Smoked Canister
Weight:
Description

Pre-Seasoned blend of pre-washed quinoa with vegetables & spices. Quick & easy & healthy side dish - just add water & boil.

Ingredients

Prewashed Quinoa, Dried Vegetables (Onions, Carrots, Tomatoes, Red Bell Pepper), Tomato Powder, Spices, Parsley, Garlic (Gluten Free)

Cooking Instructions

Stove Top: Boil 2 cups water in a small saucepan, add 1/2 tablespoon of olive oil or vegetable oil. Shake the canister of quinoa to mix up the spices & vegetables, then measure out 1 cup of the quinoa mix. Add the cup of quinoa to the boiling water. Reduce heat to low, cover loosely. Cook for 15 minutes or until liquid is absorbed. Turn off heat and let stand for 5 minutes. Fluff with fork before serving.
Microwave: In a microwave safe container combine 2 cups water, 1 cup of quinoa mix (shake contents in canister before measuring to mix the species & vegetables), and ½ tablespoon of olive oil or vegetable oil. Cover loosely. Cook on high for 5 minutes, stir & re-cover. Reduce heat to medium and cook for 8 minutes. Let stand for 5 minutes. Fluff with a fork before serving.

Shipping Rates

Domestic
Free Shipping on all orders of $49 or more! Orders up to $48.99 will be charged $9.95. For more information please visit our shipping page.

UPC: 813568002207
Quinoa - Southern Smoked Canister
Wonderful surprise
I found this on markdown - aroused my curiosity. Later it roused my tastebuds!! Haven't been able to find it again at same source, and am happy to have uncovered URL for Pereg (obscured by sale sticker). First time tried "as is"...second time added chanterelles. SO GOOD!
Excellent!
Came across this product while browsing in a local grocery store. I've experimented with quinoa and different spices. This combination is incredibly blended! No further seasonings needed. I like to slice up some seasoned sausage and add to it. I highly recommend this! You will enjoy it!
Happy Costumer
My family loves this product 🥰‼️‼️